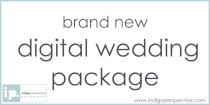 We have had enquiries recently to see if it is possible to have the photos from the day in a digital form to be able to use freely. As we always aim to please and bring the products you want at an affordable price we are now introducing our brand new Digital Wedding Photography Package.
In this package we are bringing you the exact same high standards as you get from our other packages alongside giving you a digital copy of all your photos in high resolution so you can make your own prints and also a smaller size (great for emailing and social networks).
So what does the whole package include?
-Photography Coverage of your whole day
(from getting ready on the morning through to the first dance).
-All your photos edited in colour and black & white in a digital format to use how you wish.
-30 Top quality professional prints of the highest possible quality presented in a keepsake box

Along with this you also get the great service that all our packages include with;
-Pre wedding meeting to discuss your ideas & requirements, and a chance to go through details for the day
-Stunning Photography captured professionally on your wedding day 
-Unique Preview Box including postcard sized proofs and 3x DVD slideshow of all photos in colour and black & white
-Online password protected gallery allowing you share photos with family and friends and purchase direct with no fuss through www.indigoperspective.com
-Options to purchase extra products & prints at very reasonable prices direct through www.indigoperspective.com